During his speech to Congress on Tuesday, in the most emotional moment, President Trump recognized the widow of Navy SEAL William Ryan Owens, provoking a standing ovation that lasted longer than two minutes.
"Ryan's legacy is etched into eternity," Trump said as the chamber stood up and applauded Carryn Owens, whose husband was the first American combat death during the Trump administration.
Carryin —  who was sitting next to President's daughter Ivanka Trump and other guests on the House of chamber's balcony, fought back tears, looked above, exhaled, and mouthed "I love you, baby." Tears streaming down as the applause continued, Carryn Owens stood up eventually, clasped her hands in apparent prayer, raised her head again and mouthed "I love you."
Owens killed in Yemen on January 29, in a raid Trump has said was "highly successful."
"We are blessed to be joined tonight by Carryn Owens, the widow of a U.S. Navy Special Operator Senior Chief William 'Ryan' Owens," Trump said. "Ryan died as he lived: a warrior, and a hero — battling against terrorism and securing our nation."
Trump added: "I just spoke to Gen. Mattis, who reconfirmed that, and I quote, 'Ryan was a part of a highly successful raid that generated large amounts of vital intelligence that will lead to many more victories in the future against our enemies.'"
"Ryan's legacy is etched into eternity," Trump said. Turning towards Owens' widow, the president said: "Thank you."
"For as the Bible teaches us, there is no greater act of love than to lay down one's life for one's friends," the president said. "Ryan laid down his life for his friends, for his country, and for our freedom — we will never forget him."
When the applause finally quieted, Trump quipped: "Ryan is looking down right now. You know that. And he is very happy because I think he just broke a record." Carryn Owens cracked a smile and clapped.
Trump, after the speech, seen greeting Carryn Owens in the the hallway of the Capitol.
View image on Twitter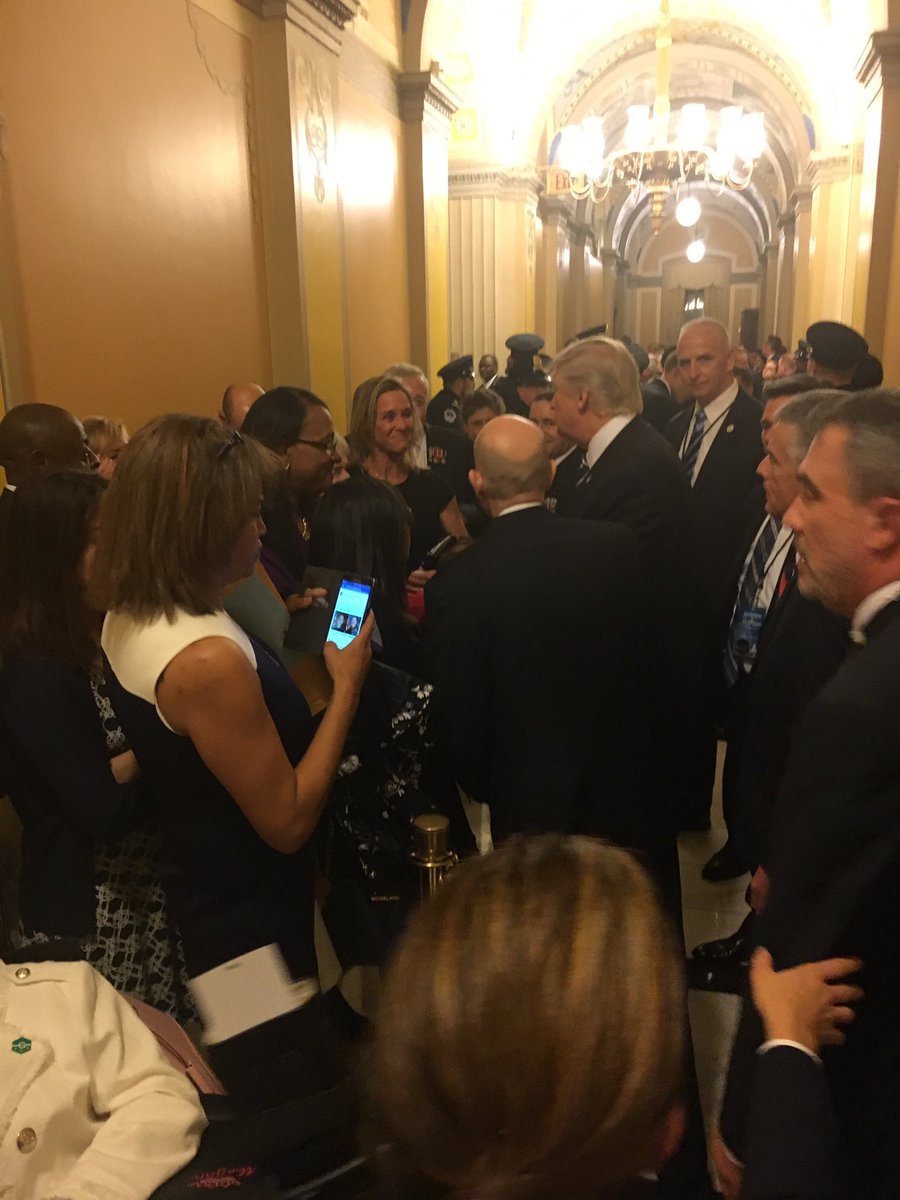 Sean Spicer

✔@PressSec

Post #JointAddress @POTUS embraces Carryn Owens #AmericanSpirit

2,1732,173 Retweets

6,7216,721 likes
Earlier this month, the president met Carryn Owens when traveled to Dover Air Force Base to attend the return of Owen's body.
Days after his father, Trump honored Owens' widow, Bill Owens, said he had refused to meet the president at Dover.
"I told them I didn't want to make a scene about it, but my conscience wouldn't let me talk to him," Bill Owens said.
Source: washingtonexaminer