Kelsey Plum headed into Saturday's game, and she needed 54 points to surpass Jackie Stiles for all-time women's scoring record in the history of NCAA. The season finale seemed like the perfect opportunity against Utah to cut the margin and set up herself for the record come conference tournament time.
No need to wait, though.
On Senior Day, Plum went off for 57 points to become the new number one scorer in the history with 3,397 all-time points. She reached the mark on 19-of-28 shooting and also set the new record in program history for most points in a single game. The record came on a left-handed floater in the lane with about four minutes left in regulation.
Coming into Saturday's contest, Plum was averaging a nation-high 30.7 points per game and has led Washington in the 11th position on national ranking. Plum, earlier this season, became the Pac-12's all-time leading scorer and was the first to reach 3,000 points in her career on either the men's or women's side in the conference.
View image on Twitter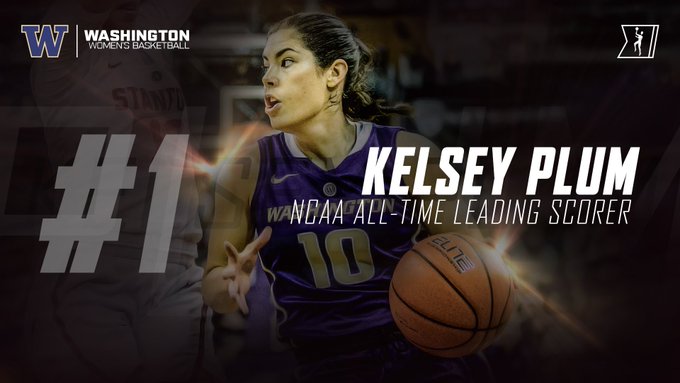 Washington WBB

✔@UW_WBB

History. #PlumsPursuit

1,5901,590 Retweets

3,1513,151 likes
She checked out in the waning of an 84-77 Huskies victory and received a warm ovation from the crowd and also hugs from teammates. On the NCAA all-time single-game record, she finished scoring three points short that was set by Rachel Banham last season, 60 points.
The All-American lock will have many times to tack in the new record with Pack-12 postseason play and the NCAA tournament around the corner.
Source: ncaa