Prince's music is coming to Spotify by Ivana Kottasova @ivanakottasova February 10, 2017: 11:16 AM ET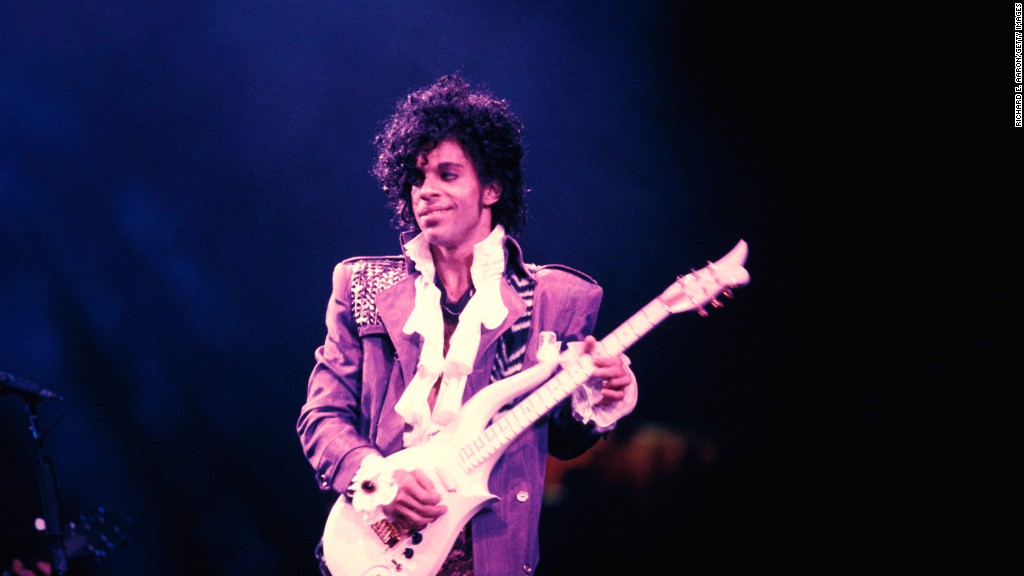 Prince's most iconic moments
"Still Waiting" to stream Prince's music? Not for much longer.
That ballad, and most of Prince's highly acclaimed music, will be available on Spotify from Sunday.
After weeks of rumors, Spotify confirmed on Friday that Prince's Warner Bros catalog will be made available. It includes most of the music Prince recorded before 1995, including albums 1999, Purple Rain and Dirty Mind.
The catalog will also be available on other streaming services, including Apple Music, Napster, iHeartRadio and Amazon Music.
The release date coincides with the Grammys, which is expected to include a tribute to Prince. The artist, a seven times Grammy winner, died last April from an accidental overdose of the opioid fentanyl.
Spotify had been hinting at the release through a purple billboard campaign in New York and London.
Purple Spotify billboards in NYC and London suggest Prince's catalog could return to streaming music services during Grammys this weekend! pic.twitter.com/Z3Lys9rW0B

— Samuel Burke (@samuelcnn) February 8, 2017
Related: Grammys set to be a night of tributes
Prince was famously fiercely protective of his music, pulling it from YouTube and declining requests from streaming services. He took all of his music off Spotify in 2015.
The one exception was Jay Z's streaming service, Tidal, which struck a deal with Prince in 2015 and has the exclusive rights to his album "Hit N Run: Phase One."
Separately, Universal Music Group announced Thursday that it had gained exclusive licensing rights to Prince's post-1995 works, as well as his unreleased music, after striking a deal with his estate.
The late musician left behind a large amount of unreleased music potentially worth tens of millions of dollars.
CNNMoney (London) First published February 10, 2017: 8:57 AM ET
Social Surge – What's Trending
Nordstrom stock defies Trump

Trump faces delicate balancing act between U.S. and foreign airlines

Kellyanne Conway unrepentant for Ivanka Trump plug
Newsletter


Big personalities. Big controversies. Big exclusives.
Sign up for the tip sheet of the media industry, brought to you by Brian Stelter, Dylan Byers, and the best media team in the business.
CNNMoney Sponsors
Partner OffersPaid Partner
NextAdvisor Paid Partner
Transferring credit card balances to a 21-month 0% APR is ingenious
7 outrageous credit cards if you have excellent credit
The best credit cards for 2017
10 cards charging 0% interest until 2018
The highest paying cash back card has arrived
Source: CNN