Netizen24.com – Top news: Pregnant and Powerful: A Look Back Serena Williams, Beyoncé and More Stars Who Put on Stellar Performances While Expecting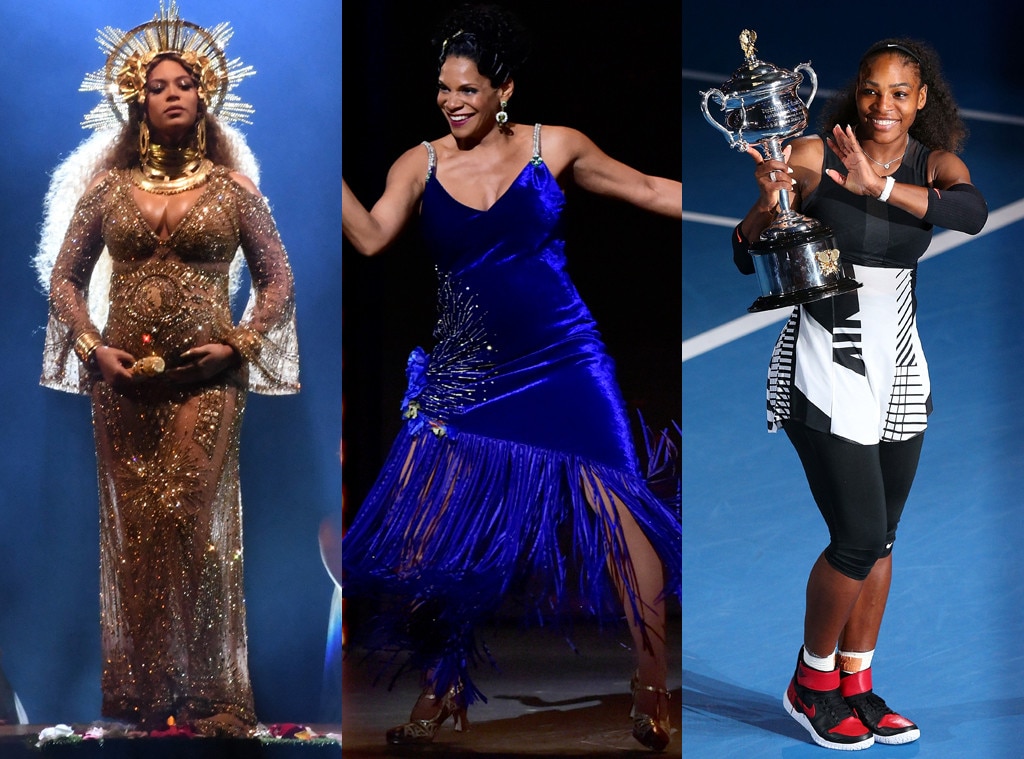 There's no arguing that, historically speaking, being a working woman and being pregnant wasn't always a positive thing.
And before you even try arguing that, let us provide one quick example: When Judy Garland became pregnant in 1941 (aka before the Screen Actors Guild), MGM executives along with her mother and her husband at the time, composer David Rose, "recommended" she get an abortion in order to prevent from damaging her wholesome image…and she did. 
However, as time has gone on and women have sought more rights and more equality in the work place, things have slowly but surely started changing. Just look at the amount of "bad ass" headlines tennis GOAT Serena Williams has made after announcing her pregnancy this week.
It's athletes, celebrities and esteemed names like her who we can thank for not only helping move society beyond the pregnant-in-the-workplace stigma, but for empowering us with their strength and courage.
Here's a look at more pregnant stars who put on powerful performances in the past:
Serena Williams Wins 2017 Grand Slam: Further proving her GOAT status, the tennis champion defeated her sister Venus Williams to win her 23rd Grand Slam in January…all the while two months pregnant.
Beyoncé Performs at the 2017 Grammy Awards: The superstar took the stage at the 2017 Grammy Awards—just four days after announcing that she was pregnant with twins—for an insanely powerful performance that gave us the chills.
Obviously, this wasn't Queen B's first pregnant performance. The singer announced she was expecting her first child, Blue Ivy, at the 2011 MTV VMAs.
Audra McDonald Performs Tap Dance at 2016 Tony Awards: The 45-year-old took the stage at the 2016 Tony Awards to perform a tap dance tribute to Shuffle Along while five months pregnant with her second child. 
She gave birth to daughter Sally James McDonald-Swenson on Oct. 19, 2016.
Ali Wong Performs One-Hour Comedy Special in 2016: The comedienne did what no other woman had done before…she put on a one-hour stand-up comedy show while seven-and-a-half months pregnant. In fact, she kicked off the Baby Cobra Netflix special, noting how you don't see a lot of comediennes taking the stage while pregnant because they just don't. 
"I had so much anxiety about my stand-up career taking a big hit, so I wanted to use my pregnancy as a source of power and turn it into a weapon instead of a weakness," she told Elle magazine of her decision to do the special. "When you're pregnant, you're hungry, tired, and fat, so you have this 'I don't give a f–k' attitude that lends itself really well to performance. You let go of all dignity and shame, and it's beautiful."
Kerri Walsh Jennings Wins Gold at 2012 London Olympics: The American volleyball player took home her third gold medal at the 2012 London Olympics while unknowingly five weeks pregnant.
"When I was throwing my body around fearlessly, and going for gold for our country, I was pregnant," she told Today shortly after the games. "At some point, you're late and then you start feeling something. And I definitely started feeling something in London."
However, none of it affected her performance on the court (obviously). "I gave everything I had. At the end of my tunnel was this next phase, expanding my family," she said. "I wanted to earn that third [gold]."
Nur Suryani Taibi Competes as a Riffle Shooter at teh 2012 Olympics: Walsh Jennings wasn't the only pregnant athlete at the 2012 summer Olympics. Nur Suryani Taibi was not only the first woman from Malaysia to compete in sharpshooting at the Olympics, she was also 8 months pregnant.
Though she admitted she had to adjust her stance to compete, she said the weight actually helped her maintain more stability of the gun. Taibi did not make it beyond the qualifying rounds of the London Games, but she still holds the title for most pregnant woman to ever compete in the history of the Olympics.
Lynsey Addario Photographed Somalia in 2011: The Pulitzer Prize-winning international war and reportage photojournalist was five months pregnant when she traveled to Somalia to take photos of malnourished children in the Horn of Africa. It was there, she felt her child kick for the first time.
Jennifer Lawrence is set to play the photog in an upcoming movie about her life, It's What I Do.
MIA Performs at the 2009 Grammy Awards: The singer took the stage for a high-energy performance of "Swagga Like Us"  alongside Kanye West, Jay Z and more…but it wasn't her actual performance that had everyone talking. Rather, MIA showed up baring her ginormous baby bump on what was supposed to be her due date!
Amy Poehler's Raps on SNL in 2008: The comedienne was joined by Sarah Palin on Saturday Night Live! in 2008 during which she performed a rap about the Vice Presidential candidate while nine months pregnant with her first child.
Seth Meyers has previously called it the most "historic" moment for him on the show.
"It was the last show [Poehler] did before she had her first son, and I always just remember being like, 'This is just the just this weirdest job. This is very strange,'" he said on Watch What Happens Live. "'This is a woman who's running to be the vice president of this country and Poehler is just yelling at her.'"
Poehler gave birth a week later.
Sumber: http://www.eonline.com
Netizen24.com, Forum discussion and sharing News from home and abroad. Starting from the ideological, political, economic, social and cultural.