Netizen24.com – Entertainment Breaking news: Pink and Carey Hart Make Women's March a Family Affair With Their 5-Year-Old Daughter and Newborn Baby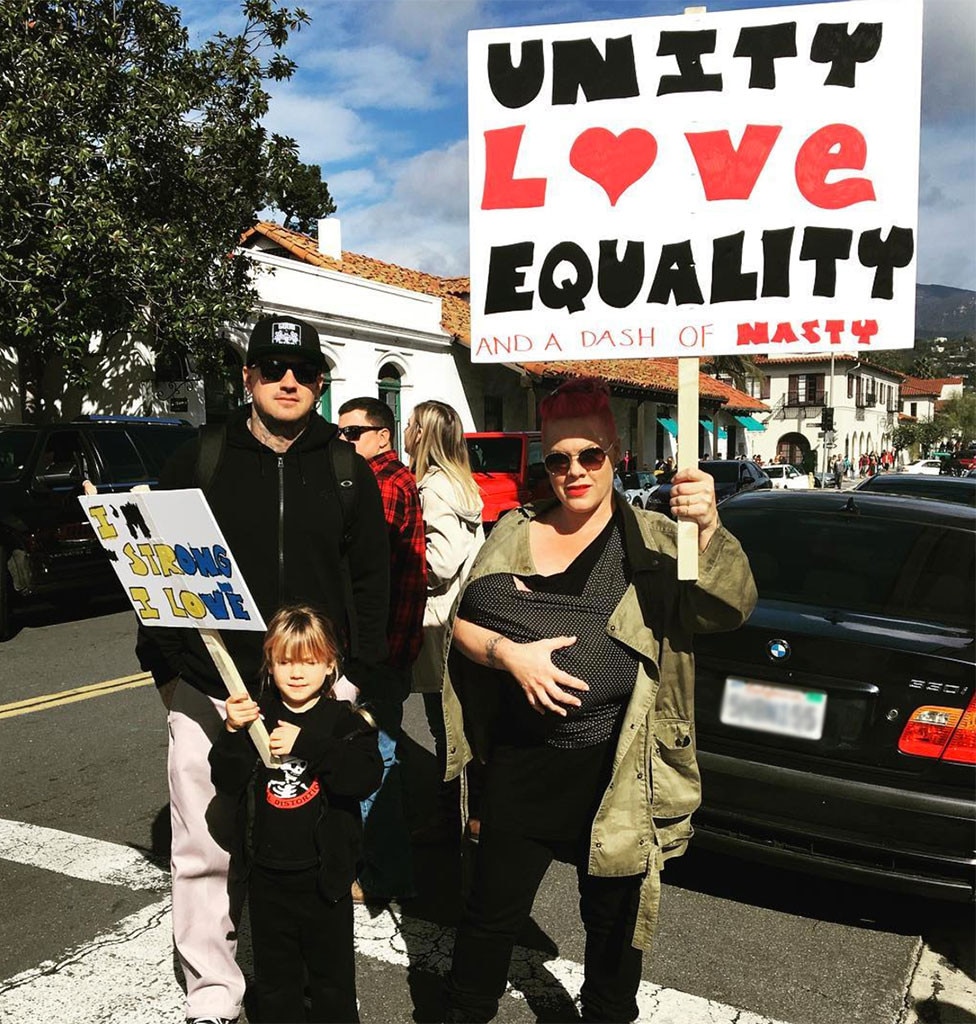 Pink's passion for equality is just like fire. 
The singer, hubby Carey Hart and their two children, 5-year-old daughter Willow and newborn son Jameson spent their Saturday at one of the many Women's Marches held across the county, a widely-attended protest in favor of women's rights and equality. 
Pink, carrying her little guy in one arm, holds up a sign on the other that reads, "Unity, Love, Equality and dash of nasty." Meanwhile, Willow holds her own hand-made poster with "I'm strong, I love" written across it. 
"We march together," Pink captioned the family snapshot. 
Hart shared his own photo of Pink holding their second child together, also penning a lengthy message about why he's sticking by his ladylove's side. 
The caption read in part, "Very proud of my wife, and it was really special to march in the streets with my family today…I think it's embarrassing that government has a say is what my wife or my adult daughter does with their body. I'm a big believer in staying in your lane. Don't like what I'd do or say? Don't pay attention. It isn't your business. So how about government stay out of women's business?"
Plenty of celebrities dedicated their weekends to attending the Women's March, walking side-by-side with hundreds of thousands fellow marchers in major cities such as Washington D.C., Los Angeles, New York City, Chicago, Denver and Park City, Utah.
Scarlett Johannson, America Ferrera, Madonna, Michael Moore, Alicia Keys, Janelle Monáe and Ashley Juddall made various speeches during the Women's March on Washington D.C.
Other celebrity attendees included Miley Cyrus, Katy Perry, Chrissy Teigen, John Legend, Brie Larson, Charlize Theron, Amy Schumer, Helen Mirren, Whoopi Goldberg, Cynthia Nixon, Evan Rachel Wood and more. 
E! News also learned Willow Smith and Lauren Conradshowed their support in Los Angeles. 
Sumber: http://www.eonline.com
Netizen24.com, Site News current daily serving News today and the latest news about politics until News lifestyle and sport.