A pickup truck driven by a drunk driver plowed  into a crowd of spectators at a parade on Saturday night in New Orleans, at least 28 people injured, police said.
Those 28 parade-goers, 21 were transported to seven area hospitals by ambulance, including  Tulane Medical Center, University Medical Center, Touro Hospital, Tulane Lakeside, Ochsner Baptist Hospital, Ochsner Main Hospital, and East Jefferson General Hospital. While other seven people declined treatment.
The victims range in age from 3 or 4-years-old to adults in their 30s and 40s, said the city's emergency services director, Dr. Jeff Elder.
The police chief also said, that among the injured was a police officer.
"One police officer was struck by a vehicle," Harrison said. "The mayor and I have gone to one hospital, we did manage to speak with her, she was in good spirits but is injured."
One person in custody and being investigated for driving while intoxicated, said New Orleans Police Department Chief Michael Harrison. He said police don't suspect terrorism.
"We suspect that that subject was highly intoxicated," Harrison said. "He is in custody. He is being investigated right now and is at our DWI office."
The incident occurred around 6:42 p.m. during one of the busiest nights of Mardi Gras in the Mid-City neighborhood at the intersection of Orleans and Carrollton Avenue, where people were enjoying and watching the Krewe of Endymion parade.
"A Chevrolet pick up truck was seen traveling eastbound on Carrollton Avenue when he struck two vehicles," police said in a statement. "The driver then caused one of the vehicles to strike a third vehicle. He then lost control driving over the neutral ground, striking a city dump truck and hitting multiple pedestrians … The drunk driver of the vehicle was quickly apprehended on scene."
New Orleans mayor Mitch Landrieu tweeted, "Our thoughts and prayers are with the victims injured by a drunk driver on the parade route today."
View image on Twitter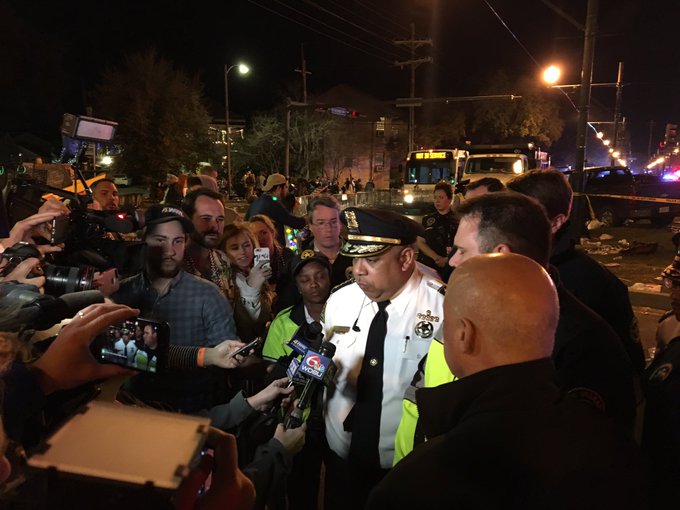 Mitch Landrieu

@MayorLandrieu

Our thoughts and prayers are with the victims injured by a drunk driver on the parade route today.

8484 Retweets

103103 likes
View image on Twitter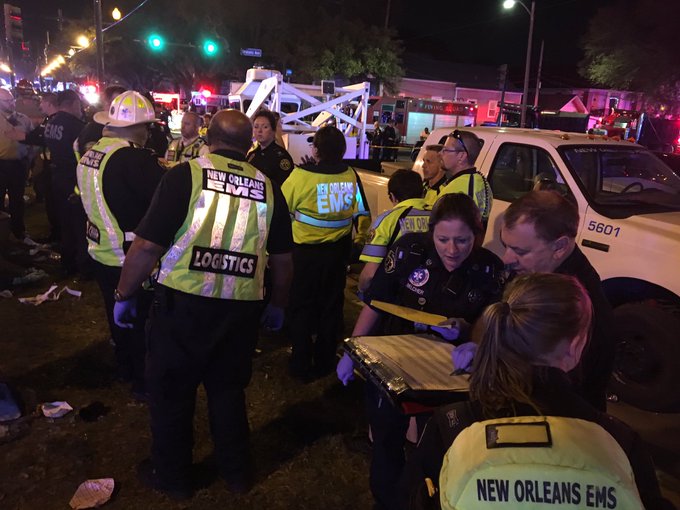 Mitch Landrieu

@MayorLandrieu

Thanks to our first responders for the care you provided to the victims and others watching the parade.

160160 Retweets

465465 likes
Source: abcnews.go