Netizen24.com – Entertainment Prime Report: Kaley Cuoco's Boyfriend Karl Cook Cozies Up to Her Ex Johnny Galecki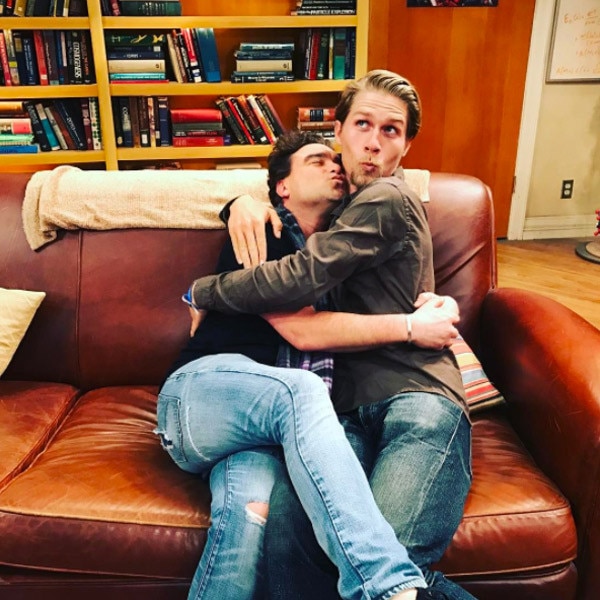 It's a battle of the boyfriends!
Kaley Cuoco was on set of The Big Bang Theory Tuesday, so her boyfriend, Karl Cook, decided to visit her. Cuoco's ex, Johnny Galecki, was also on set, obviously, given that he's her co-star! Some might think that the dynamic between Cuoco's current boyfriend and her ex could be awkward, but it turns out it's anything but!
Cuoco shared pictures of her workday on Instagram, and it looks like Galecki and Cook are BFFs. In one photo, Galecki and Cook are very cozy with each other. "Ummmmmm then this happened [monkey emoji] @sanctionedjohnnygalecki get off my man! [laughing emoji] @mrtankcook," she captioned the picture.
The Wedding Ringer actress also shared an image of her giving her beloved a kiss on the cheek. "Can you tell I ❤when this guy comes to visit me at work?! @mrtankcook," she wrote.
Cook and Cuoco first sparked romance rumors last March, but didn't make their red carpet debut until September when they attended the Longines Masters Los Angeles Gala together. Only a few months after that did a source tell E! News exclusively that Cuoco was "head over heels in love" with her equestrian boyfriend.
"They seem to be in a good spot right now. She is always traveling with him. It's not as much her schedule but more so his. She never knows when she's going to be in town because she goes whenever and wherever he goes," the source said at the time, adding, "She is super smitten."
Prior to Cook, Cuoco was married to tennis player Ryan Sweeting.
Cuoco told Women's Health that after their split, she wondered if she would ever love or marry again.
"Then I knocked into Karl—literally, we bumped arms at a horse show," she said. "And we each said, 'Oh, I'm sorry'—and everything changed. I looked at him, and he looked at me…"
Sumber: http://www.eonline.com
Netizen24.com, Site News current daily serving News today and the latest news about politics until News lifestyle and sport.