Netizen24.com – Top news: How Kim Kardashian Helped Keep the Peace for Rob Kardashian dan Blac Chyna Before the Birth of Their Baby Girl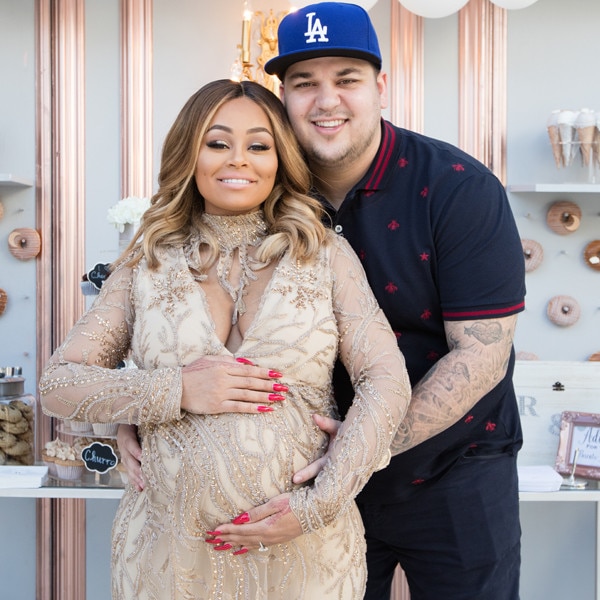 Over the years on Keeping Up With the Kardashians, no matter what sort of drama the family is dealing with at any given time, there's been a running theme.
And that's Kim Kardashian, time and again, serving as the voice of reason when others' lives are up in the air.
Whether she's directly involved or just happening upon a bit of conflict, Kim always seems to be the glue that's keeping a situation from spiraling too far out of control. And never has that seemed more like the case than this past year, which notably kicked off with Rob Kardashian falling for Blac ChynaKim's old friend and the ex of Kylie Jenner's boyfriend, Tygaand has now culminated in a way with the birth of Rob and Chyna's daughter, Dream Renee Kardashian.
With tension pretty much built into the equation under those circumstances, Kim has played a key peacekeeping role both between Rob and any family members he's butted heads with and between Rob and Chyna themselves when emotions have run high.
Back in April, Kim was one of the first members of the family to try and make Chyna feel welcome after the initial shock over news of her and Rob's coupling had passed—and she's also the one who encouraged Kylie to bury the hatchet with their future sister-in-law.
The united front would come in handy once Rob and Chyna's relationship took a turn for the rocky.
"I know that Rob and Chyna have an unstable relationship," Kim observed, as seen on KUWTK, when Rob opted out of a trip to San Diego to see their grandmother and Chyna went without him. "There's obviously two sides to every story. And, you know, they just know how to push each other's buttons, and my brother just, like, shuts down, and doesn't really tell us because he doesn't want us to turn against him or against her. So instead he just comes up with all of these excuses."
Kim encouraged Chyna to join the family anyway, but insisted to mom Kris Jenner that Rob needed to sort himself out.
"Honestly [he] has to just start being honest," Kim told her. "Like, enough with the excuses…we're never gonna believe him. If you don't want to come, just say, 'I don't want to come.' That's what pisses me off so bad about him."
And when Chyna showed up at the restaurant, sans Rob, with Kris, Khloe, Kourtney and Kim and their kids and Scott Disick, Kim did her best to make Chyna feel comfortable under the strange circumstances, as they all shared a laugh over whatever mood swing had prompted Rob to block their texts.
Thanks to their pre-Rob history together, Chyna's able to open up more to Kim than any of the other sisters about her fiancé. In San Diego to visit M.J., she discussed with Kim her frustration over Rob second-guessing their relationship.
"We've all tried to come at him in different ways and with our own personalities, and he's not gone for any of it," Kim said. "So it's nothing that any of us have done, it's really within himself. I just hope he gets it together for the baby."
She advised that Rob and Chyna needed to sit down and have a serious discussion about their plans for their relationship and their baby on the way.
But while she's tried to be there for Chyna, particularly when Rob has acted unpredictably, Kim has also stepped in to set Rob straight when she felt he and Chyna weren't doing right by the rest of the family.
After finding out they'd posted some nasty-seeming comments about Kylie and Kris, not long after they went public as a couple, Kim wisely advised Kylie, "Just ignore it, don't do anything back. Like Khloe, if you say 'ignore it,' she always has to do an Instagram, tweet or something as a dig."
But while Kylie took her big sister's advise, Kim still called Rob right up and put him on blast.
"Mom is pissed, when you start publicly bashing my sister and mom, that's not cool," she informed him. "This is just unnecessary, this is not what our family does. Like there's way too much drama, so many haters in the world, we don't need this from our own inside circle."
"Everyone has to just not be blasting people on social media," Kim added when Rob protested that it wasn't "that serious." But Kim didn't care what his impression was: "Whatever Chyna and Kylie and all the drama that they have together, that's for them to work out…Mom has bent over backwards doing all this stuff…You two are a unit now so it looks like you're blasting mom, and it's petty as f–k."
Kim also helped broker a truce between Kourtney and Rob, calling their rift over Chyna "so ridiculous" and reminding her big sister that the whole family just needed to "get over it" when it came to Rob and Chyna being together.
"I can't believe you haven't talked to him since [your fight] and I can't believe he hasn't cared enough to call you," Kim fumed.
"I know what it's like to be having your first baby and people aren't supportive. It took like years for people to like Scott," Kourtney recalled. Kim even offered to take the first step and call Rob for her, and Kourtney did admit that she thought Kim was right about giving their brother a chance to explain his feelings.
By summertime Rob was slowly getting comfortable again within the fold. He and Chyna looked to be having a blast at Khloe's birthday with the rest of the family at Dave and Busters in June. And while things weren't always rosy between him and Chyna leading up to the arrival of their baby girl yesterday, Rob has been back in regular communication with his sisters and mom thanks to the springtime ice-breaking instigated by Kim.
"She gave him confidence, more power to her," Kim reminded Khloe during the earlier days of Chyna and Rob's relationship. "After Rob and Blac Chyna started dating, Rob is now like all over social media and, like, out and about.
"He hasn't been like this in so long that even though there's been some drama, if this is what it takes then I don't care who he's dating I'm just so happy that he's feeling better about himself."
Sumber: http://www.eonline.com
Netizen24.com, index News this day of events, accidents, crime, law, News unique, Politics, and special reports on the world and International.