(CNN)Protesters filled Bucharest's Victory Square on Wednesday night after the Romanian government adopted an emergency law that decriminalizes corruption.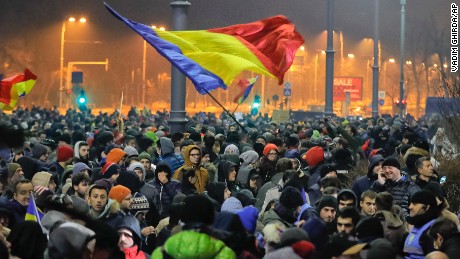 Most protesters were peaceful and many waved Romanian flags or held up signs.Romanian emergency services officials said five people — three protesters and two law enforcement officers — were hospitalized with undisclosed injuries. Video from the Romanian capital showed several helmeted police officers, separated from demonstrators by a barricade, aiming pepper spray at the protesters.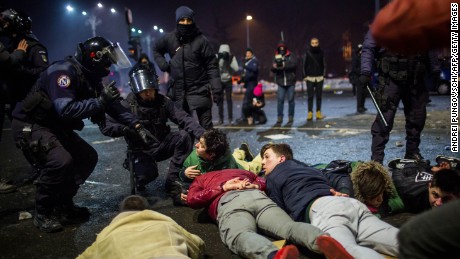 Protesters are detained by riot police in Bucharest on February 1. A few people threw flares and other objects at the security forces and pushed dumpsters full of trash into the street. A small fire began later. Many protesters waved Romanian flags or brought signs.Read MoreAs Wednesday became Thursday, most protesters had left the square near the building that houses Romania's Cabinet. Protesters also took to the streets in 50 other cities across the country, like Timisoara, Cluj-Napoca, Iasi, Sibiu, Brasov, Arad, Galati, Craiova, Constanta and Alba-Iulia.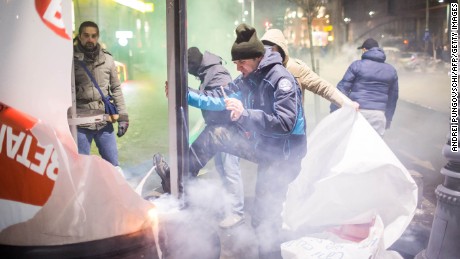 Demonstrators attack advertisements during protests in Bucharest on February 1.A new decree passed by the Romanian government decriminalizes corruption that causes damage worth less than about $48,000 US (200,000 leu).The measure takes effect in 10 days. Once it does it will stop all ongoing investigations for this kind of offense and will also prevent the launching of any subsequent probes related to these offenses.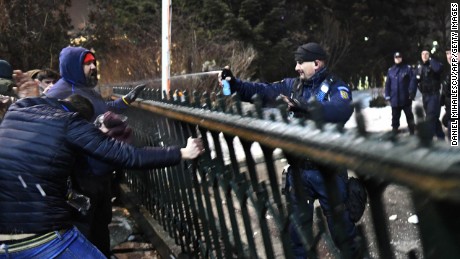 An officer pepper sprays protesters attempting to enter government headquarters on January 31.Liviu Dragnea — the president of the Social Democrat Party, which recently took power — is himself under investigation for abuse of power and had also previously received a two-year suspended sentence for an elections offense.Dragnea and other high-ranking politicians stand to benefit from the new law, which was passed by Prime Minister Sorin Grindeanu and didn't need the vote of the Parliament. European Union President Jean-Claude Juncker expressed concern over the new law. "The fight against corruption needs to be advanced, not undone. We are following the latest developments in Romania with great concern." The embassies of Belgium, Canada, France, Germany, Netherlands and the United States issued a joint statement echoing Juncker's sentiments. "We, Romania's international partners and allies, express our profound concern at the actions of the Romanian government on the night of January 31, 2017, which have undermined Romania's progress on rule of law and the fight against corruption over the past 10 years."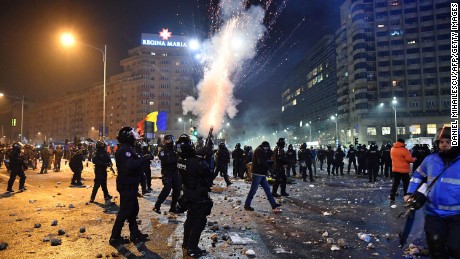 Riot police fire tear gas during protests in Bucharest on February 1. The embassies added they hoped the law would be reversed. "We hope the government of Romania will reverse this unhelpful course. While amendments to existing laws and procedures are occasionally necessary, these changes should be made only in the process of comprehensive and credible consultation with all stakeholders." Protesters have vowed to take to the streets again on Thursday.
CNN's Steve Almasy and journalist Cosmin Stan in Bucharest contributed to this report.
Source: CNN