Barry Switzer knows one or two things about Oklahoma quarterbacks, given his time with the school. And he had a good zinger for Baker Mayfield.
On Saturday, Mayfield was arrested on four charges, including resisting arrest and public intoxication. After seeing one of the many internet jokes which made at Mayfield's expense, Switzer had also a great joke of his own.
own.
Barry Switzer

✔@Barry_Switzer

They couldn't have caught my quarterbacks!!https://twitter.com/oiltrsh/status/835622268143296514 …

2,3942,394 Retweets

4,0624,062 likes
Eddie Radosevich

✔ @Eddie_Rado

@oiltrsh on the checklist of drunk that's a must.
Brian Goodman

@oiltrsh

@Eddie_Rado picture take at the time of the chase pic.twitter.com/Kt4SStm4ub

140140 Retweets

209209 likes
When he was the head coach at Oklahoma from 1973-1988, Three national championship were won by the Sooners. He started his coaching career at Arkansas when coaching running backs for five years, before taking a job as Sooners offensive coordinator from 1966-1972.
However, Switzer was not the only one who made a joke about Mayfield's arrest, Twitter users also got in some good shots on the Oklahoma quarterback.
View image on Twitter

Ryan Higgins

@rhiggins479

This FVPD officer is clearly who the hogs should have hired to coach linebackers.
Patrick Brown

@patrickbrownTFP

This Arkansas cop did a better job of tackling Mayfield than Tennessee's defense did in the fourth quarter in 2015. *ducks for cover* https://twitter.com/Jake_Trotter/status/835537546230784001 …
View image on Twitter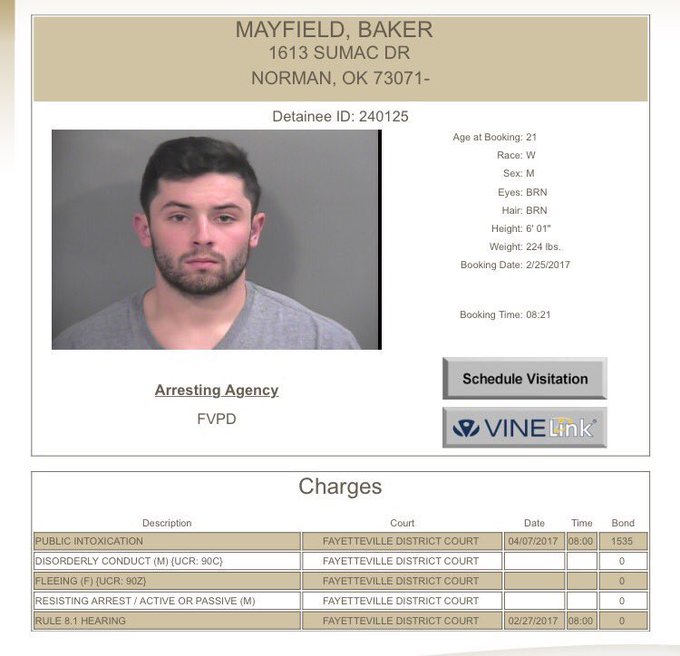 Bunkie Perkins

@BunkiePerkins

Underrated part about the Baker Mayfield arrest is the booking time. 8:21 AM. First guy in the jail. NFL scouts love that work ethic.

2,0102,010 Retweets

4,0524,052 likes
Oklahoma has yet to release any official punishment. The Sooners open the season against UTEP in Week 2, playing at Ohio.
Source: seccountry